Jio APN settings for iOS
Jio APN settings for iOS 12 are given below. But if you are looking for Jio APN settings for different version of iOS such as iOS 10, iOS 11, iOS 8, iOS 9 please select your exact device modal below.
Jio Internet APN settings
In your iOS device, select Settings and then Cellular.
Check that Cellular Data is turned on.
Tap Cellular Data Options and then Cellular Data Network.
Go to Cellular Data and enter information as below
APN: jionet
Username:
Password: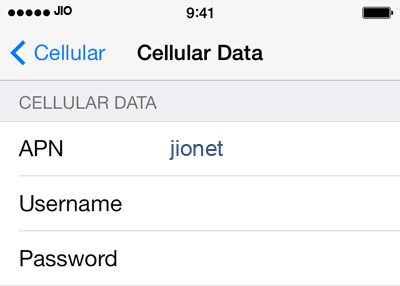 Go to LTE Setup (Optional) section and enter information as below
APN: (Leave Blank)
Username: (Leave Blank)
Password: (Leave Blank)
Enter the below details in MMS section:
APN: jionet
Username:
Password:
MMSC:
MMS Proxy:
MMS Max Message Size: 1048576
MMS UA Prof URL: http://www.apple.com/mms/uaprof.rdf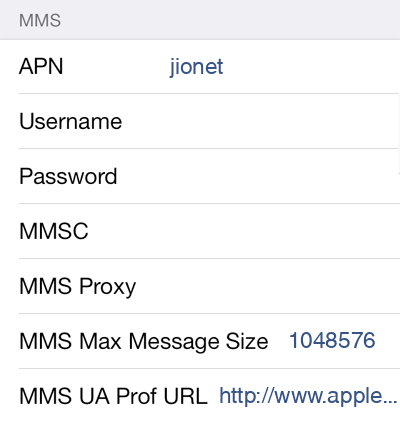 Press the Home button to save the APN and exit to the main screen.
Now, restart iOS to apply new Jio 1 APN settings.
On iOS, APN settings should be entered in correct case. For example, if you are configuring your APN setting with Jio Internet APN settings configuration above, make sure you enter APN as jionet and not as JIONET or Jionet.
Jio iOS APN Settings Videos
Jio New Apn Setting October 2018 | How To Increase Jio Internet Speed
Jio new apn setting october 16 2018. how to increase jio net speed . jio apn setting jio fast net jio new apn settings,jio official apn settings,jio upgrade apn apn ... - TECHBoY ARUP
Reliance Jio 4G VoLTE APN Settings iPhone | Internet Settings | Manually | India | Recom Network
100% working Android How to Create Reliance Jio 2G 3G 4G LTE APN Internet Setting Manually. Network Mode Settings. GSM Only = 2G Only WCDMA Only ... - Ftopreview.com
How to Activate Reliance Jio 4G LTE Network Sim to iPhone 5, 5S, 6 ,6S Plus.
How to Activate Reliance Jio 4G Voice to iPhone 5, 5S, 6 ,6S Plus :- https://goo.gl/g8tQo2 How to Activate Jio 4G Personal Hotspot on iPhone 5, 5S, 6 ,6S Plus ,7 ... - UnlockiOfficial